Warranty
LIMITED LIFETIME WARRANTY
Each new Rockstead knife is packaged with documentation of the Rockstead Lifetime Warranty. Rockstead warrants the original owner that Rockstead knives purchased from authorized dealers.

Rockstead Lifetime Warranty only applies to genuine Rockstead products from authorized dealers. Knives purchased on secondhand, are not entitled to our warranty coverage.


WARRANTY INFORMATION
◆Rockstead warrants the sharpness of the blade. If your knife doesn't cut well, please send it to our company.


◆Rockstead warranty doesn't cover damage caused by abuse, misuse, loss, improper handling, alterations, accident, neglect, disassembly, or improper sharpening.


◆If we determine there is a defect in the manufacture / materials / workmanship, we will repair free of charge.


◆If a problem with a returned knife is determind to be caused by something other than a defect in manufacture / materials / workmanship, we will inform you of whether the product can be repaired. Also, we will inform to repair cost.


◆Disassembly will void warranty (exclude the HIGO and HIZEN model).

REGISTRATION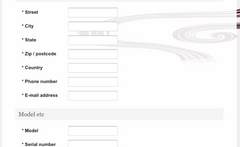 Original purchaser need to register for warranty. Rockstead registration is the only original purchaser. Please enter the registration page.
SHIPPING
Simply ship the knife to the Rockstead address by EMS (post service). Rockstead is not responsible for any product lost in transit.
However, return shipping cost must be paying by yourself. It cost is 5000 JPY. I can accept of this payment by Paypal.
When you ship a repair knife to us, you definitely indicate "Repair knife for warranty return and model name serial number" an invoice.
For example, "Repair knife for warranty return SHIN-ZDP #001".

(Address)
1-26, Kannabe-cho Sakaiku Sakai city
590-0984 Osaka Japan
Rockstead corporation
+81 72-221-1331